www.awareparenting.com
Transforming families around the world
P.O. Box 206, Goleta, CA 93116 U.S.A.
(805) 968-1868 (phone and fax)
e-mail: info@awareparenting.com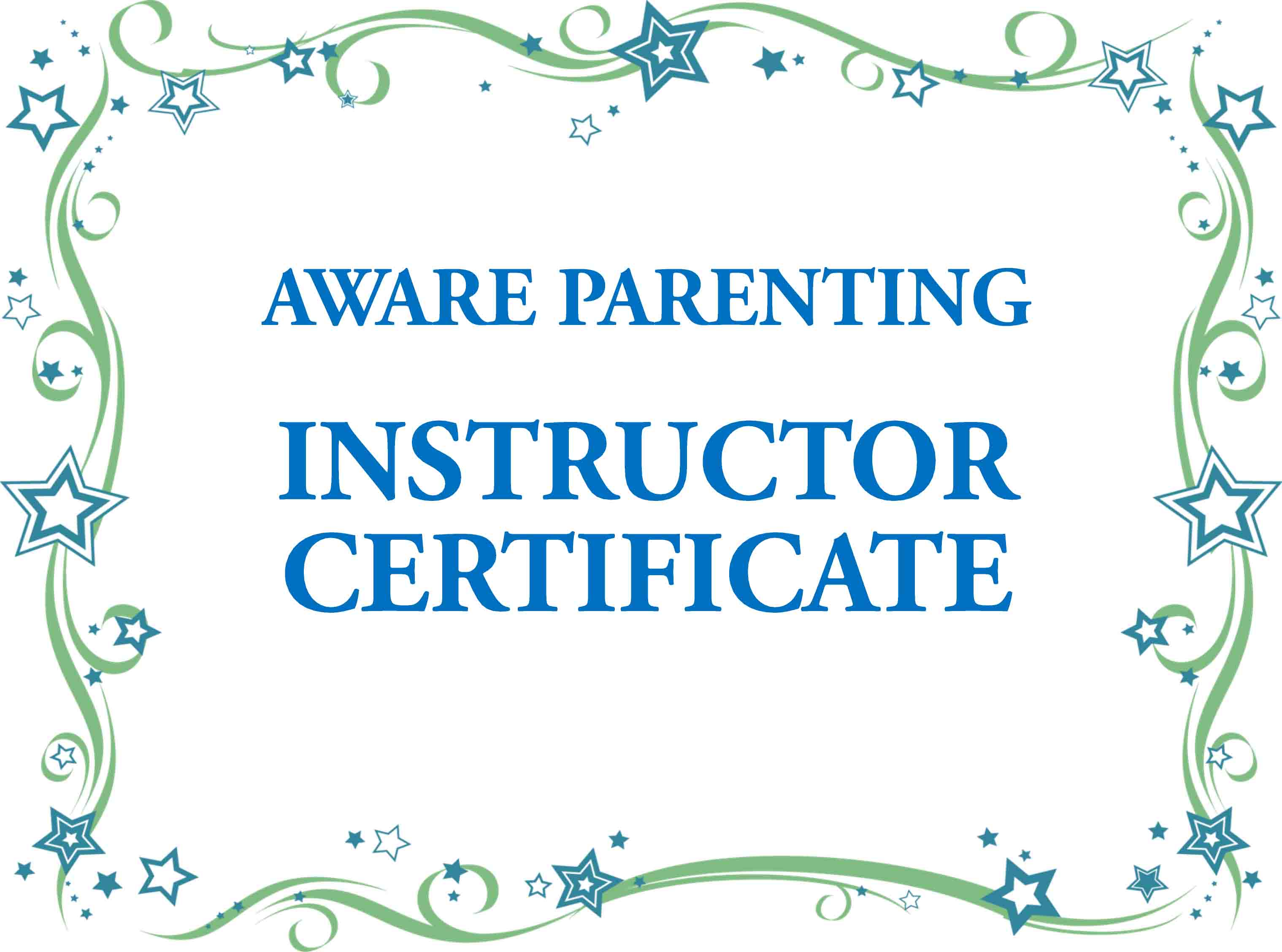 Requirements for Becoming a Certified Aware Parenting Instructor
If you wish to obtain permission from Aletha Solter to teach Aware Parenting, please follow the application procedure on this page. Please note that the Aware Parenting instructors work independently and are neither employees nor subcontractors of the Aware Parenting Institute.
List of requirements
a) Read the most recent editions of Aletha Solter's five books: The Aware Baby, Cooperative and Connected (a revised edition of Helping Young Children Flourish), Tears and Tantrums, Raising Drug-Free Kids, and Attachment Play. You must understand and agree with the philosophy of parenting described in them.

b) Complete the study guides for The Aware Baby and Cooperative and Connected, and fill out the Answer Sheet for each:
Attend an Aware Parenting workshop of at least 6 hours within the past five years. It must be a live, interactive workshop led either by Aletha Solter or by a Level 2 Aware Parenting instructor. Formal lectures, individual sessions, and online or Skype presentations do not qualify for certification. The goal of this condition is to learn how to present the material in a group setting. The Level 2 instructors have a red star next to their name on the list of instructors.
Have at least one year of experience using the Aware Parenting approach with children (as a parent, babysitter, early childhood educator, etc.). You do not need to be a parent to qualify for certification.
Have personal experience in your own life with the benefits of emotional healing through laughter and crying (either on your own or through some kind of therapy). Be committed to eliminating your own control patterns and addictions. If you smoke, you will need to quit smoking before becoming certified.
Have practical experience working with groups of adults in a live setting. If you have met all of the other requirements, but do not have experience working with groups of adults, you may give at least two presentations about Aware Parenting in your community and describe this experience in your application.
Be able to read English. Correspondence from the Institute is in English (including our quarterly newsletter for the instructors).
Agree that you will:
Provide not only information, but also emotional support and encouragement to parents.
Encourage people of all races, religions, and backgrounds to attend the Aware Parenting classes that you teach.
Mention Aletha Solter's books in the classes that you teach so the participants will know the source of the material.
Not combine Aware Parenting with any religious or spiritual belief system, or with other theories, practices, or techniques (unless you have consulted with Aletha Solter about this). We want people of all religions, as well as those with no religious beliefs, to feel comfortable with the Aware Parenting approach.
Be committed to ending all forms of oppression of children (including all forms of punishment).
Application Procedure (Printable application form)
After you have met all of the requirements listed above, you may apply to become certified. Please send the following items all together in the same envelope to Aletha Solter, Aware Parenting Institute, P.O. Box 206, Goleta, CA 93116, U.S.A.: 1) The completed application form, 2) Your written application (printed, not hand written), 3) A letter of recommendation, and 4) Your payment. (If payment is sent separately, please indicate the payment method on the application form.)
We do not accept applications or letters of recommendation by email (with the exception of letters of recommendation written by Aware Parenting instructors. See below.). Please mail your application to the address above. Do NOT use registered or certified mail, as this method requires us to wait in long lines at the post office to pick it up. If your payment is sent separately by PayPal, Aletha Solter will wait for your payment before reading your application. Please note also that Dr. Solter does not accept applications or conduct certification interviews during her workshop tours.
The written application:
Your written application (printed, not hand written), should be divided into five sections with the following headings:
a) Pertinent background information about yourself (including education and work history).


b) Reasons for wanting to be an Aware Parenting instructor.


c) Why you feel that you are qualified to teach this philosophy (refer to the requirements above). Include details and specific examples for requirements 3, 4, and 5. For requirement number 3, the details should include at least one example of using Attachment Play with a child and one example of accepting a child's crying.


d) Proposed teaching plans.


e) Your completed answer sheets for the Aware Baby study guide and Cooperative and Connected study guide (see requirement number 1).
Letter of Recommendation:
Send a letter of recommendation from somebody who knows you well, either personally or professionally (who is not related to you or employed by you). Be sure the person dates and signs the letter and includes his or her contact information (street address, country, email address, and telephone number). Unsigned letters and letters sent by email will not be accepted, unless they are from an Aware Parenting instructor. If your letter of recommendation is from an Aware Parenting instructor, it must be sent by email directly to Aletha Solter from the instructor's own email address.
Payment:
The fee for becoming certified is U.S. $150 or EUR 150. Please see the application form for payment methods.
Interview:
After receiving your application materials and payment, Aletha Solter will contact you to arrange a Skype interview.
After you become certified, your name will be added to our internet list of Aware Parenting Instructors, as well as the list of instructors on our web page for your country. You will receive a certificate, some digital teaching materials (charts in English, French, German, or Spanish), and complimentary copies of Aletha's two workbooks. You will also receive a quarterly newsletter with information about Aware Parenting activities around the world. Certification is valid for two years with possibility of renewal after that time.
Note:
As an Aware Parenting instructor you will work independently. You will not be either an employee or a subcontractor of the Aware Parenting Institute.