Raising Drug-Free Kids
by Aletha Solter, Ph.D.
Published by Da Capo Press in 2006
100 tips for keeping children of all ages away from drugs and alcohol
With adolescent use of illegal substances on the rise, parents are wise to be concerned about setting their children on a drug-free course. While much advice handed out these days focuses on teen behavior and on what to do once drugs have become a problem in the home, Raising Drug-Free Kids takes an innovative approach and focuses instead on preventive measures that can be followed at all stages and ages of a child's life.
In this essential, practical, and comprehensive parenting guide, Aletha Solter, provides parents with simple, easy-to-use tools to build a solid foundation for children to say "no" to drugs. Organized by age group, from preschool through young adulthood, the handy 100 tips describe an innovative approach to parenting based on current research in the fields of attachment, trauma, substance abuse, and child development.
This book will show you how to help your children: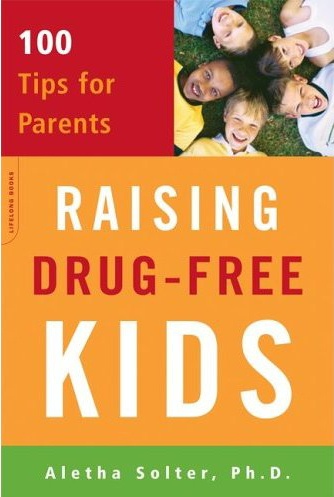 Feel connected to the family
Have no need to rebel during adolescence
Cope with stress so they won't turn to drugs to feel better
Take healthy risks instead of dangerous ones
Feel good about themselves without an artificial high
Respect their bodies so they will reject harmful substances
Developmental psychologist and parent educator Aletha Solter is the founder of the Aware Parenting Institute. She is recognized internationally as an expert on attachment, trauma, and non-punitive discipline. Her five parenting books have been translated into many languages.
Please click on the following links for more information:
Introduction to Raising Drug-Free Kids
Article about the five basic principles for drug proofing your kids
List of references about the topics discussed in the book

Reviews and endorsements:
"Raising Drug-Free Kids: 100 Tips for Parents is from attachment-parenting-oriented developmental psychologist and Mothering contributor Aletha Solter. This is not a guidebook for helping kids resist peer pressure, but rather a plan for bringing up emotionally healthy children from the start. Solter's straightforward, no-nonsense advice includes: Let your children express their feelings, don't judge them, and teach them to manage stress."
—Mothering magazine
"Raising Drug-Free Kids provides worried parents with a wide range of practical and helpful strategies to create a healthy environment for kids of all ages, which will serve to immunize them against the temptations of illegal drug use for the rest of their lives. This holistic approach to drug prevention is a welcome relief from the simplistic 'just say no to drugs, but ask your doctor if Ritalin is right for you' message that abounds in our culture. I recommend this book highly."
—Thomas Armstrong, Ph.D. (author of The Myth of the A.D.D. Child: 50 Ways to Improve Your Child's Behavior and Attention Span without Drugs, Labels, or Coercion)
"Raising Drug-Free Kids is not only a complete guide for achieving the title's goal, but also a fine brief manual for raising children generally. I can imagine parents wanting to review this little manual, so easy to read, often during their child-rearing years.
—Elaine Aron, Ph.D. (author of The Highly Sensitive Child)
"Dr. Solter knows the answer to our drug problem, and she provides it in clear, doable fashion. Teaching our kids to 'just say no' isn't enough, and punitive discipline only worsens the problem. The answer is to nurture our children, to give them the skills they need to succeed, and to raise them to be strong, healthy people who have no interest in making drugs a part of their lives. To find out how, read this very important, accessible, inspiring book. Every parent, teacher, and friend of a child of any age will find something of practical interest within its pages."
—Karen Miles (author of The Power of Loving Discipline)
"At a time when health professions are relying exclusively on psychiatric drugs to improve the behavior of children, this book provides far better alternatives. Good resource for parents!"
—Peter R. Breggin, M.D. (psychiatrist and author of Reclaiming Our Children and The Ritalin Fact Book)
"Dr. Solter has created a fine gift to all parents by blending brilliant philosophy and keen practicality as she addresses a difficult cultural burden in our society: the drug problem. Raising Drug-free Kids is filled with priceless parenting guidance, and is beautifully formatted to provide sincere parents quick focus on any of one hundred valuable tips, all of which will enhance the effort to preserve their children's freedom."
—Win and Bill Sweet (authors of Living Joyfully with Children)
"When I became a father, Aletha Solter taught me a great deal through her book, The Aware Baby. When I started challenging the psychiatric labeling and drugging of children, I was hit from all sides with the question, 'What are your solutions, then?' I highly recommend Solter's new book, Raising Drug-Free Kids: 100 Tips For Parents, as 100 terrific answers to that question, beautifully particular according to the age of your child!"
—John Breeding, Ph.D. (author of The Wildest Colts Make the Best Horses and True Nature and Great Misunderstandings)